Well hello, people!!
Did you think I fell off the face of the earth?!!  I've so enjoyed the creative break from stamping and the CAS-ual Fridays challenges.  I missed my teammates, and all of you, but it was kind of nice to have that little break.  We had the most wonderful time in Seattle visiting our family for the holidays – our time there was much too short!  I so hope that you, too, enjoyed the holiday season!
So are you as ready to get back into the swing of CAS-ual Fridays as I am?!  Oh My Gosh – this week's challenge is not only going to be a fun one, it also provides the possibility of one of you being chosen as next month's CAS-ual Fridays Guest Designer – how fun is that?!  THE CHALLENGE:  Create a CLEAN & SIMPLE card design and include CHIPBOARD in your design.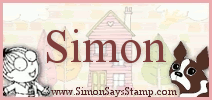 Our amazing sponsor this week is SimonSaysStamp.com, the purveyor of one of the largest stash of stamps and stamping supplies known to man!  SimonSaysStamp.com has provided a wonderful prize for this week's TGIF Winner, but you'll have to hop over to the CAS-ual Fridays Challenge Blog to find out what it is.  BONUS ALERT:  This week's TGIF Winner will also become the CAS-ual Fridays Challenge Guest Designer for a week in the month of February.  So exciting, right?!!  Thank you, SimonSaysStamp.com for being our sponsor this week!!
I'll be honest – I am NOT a fan of chipboard.  Ironically, I have an enormous stash of it, but just can't bring myself to use it in my designing.  But I have to tell you that I appreciated this challenge because it FORCED me to get that stuff out and use it.  And I have to say I'm pretty stinkin' happy with what I created.  I adhered some designer paper to the flowers and sanded the edges to give it a clean finish.  The vines were created using a PTI die.  I so love white one white . . . it makes me happy!
There ya have it!!  Hop on over to the CAS-ual Fridays Challenge Blog to see what the other brilliant Girl Fridays have cooked up for your inspiration.  That's it for me today.  I'm headed to the west valley to pick up a crafty friend for a two-day crafting binge – BE STILL MY HEART!!  How about you?  Any fun crafty plans this weekend?!!  Have a great weekend – thanks so much for stopping by today!