Hello friends!
I promised I'd be back with more crafty goodness, and here I am honoring my promise!!  Today, my creative teammies are here sharing our love of the Flop Card Die-Namics!!  Now, you all know that I'm a fool for anything that moves on a card!  And the Flop Card Die-Namics are super fun and EASY to use!!  Here's what I came up with, using the Flop Card Circle Die-Namics.
So I thought it'd be fun to turn the circle from the Flop Card Circle Die-Namics into a vinyl record.  Does anyone remember those?  LOL  I used the Musical Notes Background on the right side of the card, and the sentiments are from the Jungle Vibes Stamp Set.  Cute, right?!!  Perfect for those "older folks" who actually owned real vinyl records!  LOL
And I'm sure you all won't be surprised that this wasn't my first response to the Hits & Highlights creative team challenge.  Because I struggle with reading directions . . . it's a huge character flaw that somehow keeps popping up in my life!  So, here's my FIRST flop card – but it doesn't actually follow the spirit of the challenge.  Hee hee hee
So, if you don't own any of the Flop Card Die-Namics, you can create your own flop card with dies that you might already have in your stash!!  I trimmed a 5.5" x 8.5" card base from Smooth White Card Stock, and scored it at 2-1/8" (just slightly at the top and bottom edges) and 4.25".  Then I placed the Cloud Shaker Window & Frame Die on the 2-1/8" scored area, and used the partial die cut technique to cut only the right half of the die.  I left the die in place, and ran it through my die cutting machine a second time using an embossing pad.  It's really easy to do!  But honestly, the Flop Card Die-Namics take all of the guess work out of making a flop card.
I've listed and linked all of the products that I used below.  Please click on through to the MFT Design Blog to be linked to the other flop card designs that my sweet teammates have created for your inspiration!  I know you'll be amazed!
That's it for me today, friends!  I'm working my little fingers to the bone in my craft room, but I'll be back very soon with more crafty stuff to share with you!  Thanks for spending part of your day here with me – I sure do appreciate it!
MUSIC CARD PRODUCTS USED: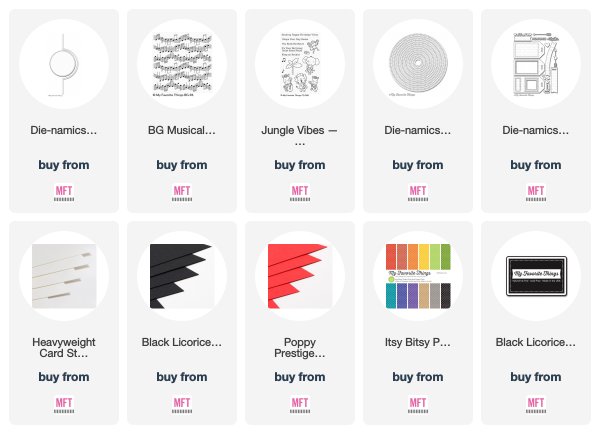 CLOUDY CARD PRODUCTS USED: